Volunteer .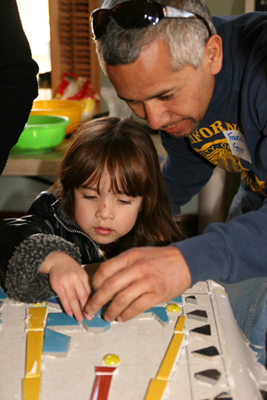 Help inspire- Be involved, have fun and make a difference!
Our volunteers are the backbone of our organization. Without them, Peralta couldn't go on. From assisting with programs and events to helping with the crucial operation and maintenance initiatives, our volunteers make it possible for us to do good work for the community.
In 2015 alone, over 1,000 volunteers helped us bring more for education and arts in Fruitvale. Your help matters, and most of all, it makes a difference in your community. Now that's making history!

Volunteer Opportunities include:
Park and creek clean-ups! Every third Saturday of every month, 10:00 AM-12:00 PM. Dates might change to accommodate Earth Day, Martin Luther King Day, and Creek to Bay Day.
School field trips assistant, email info@peraltahacienda.org for more info.
Special Community Events - Help set-up and organize special events.
As Needed Projects - Mailings, Phone Appeals, etc.
Benefits of Volunteering:
Attendance to all programs at which you volunteer.
Volunteer discount on tickets and opportunities for complimentary tickets.
Meet new, like-minded people and have fun all while making the education possible for our community.
Being an active member in the Fruitvale community and experiencing the excitement of museum events.
To join our family of volunteers, please contact Volunteer services at (510) 532-9142