Community Programs .
Mexica Dance Classes
Ongoing Mondays, 6-8pm
Join us at the Center for History and Community at 2488 Coolidge Avenue to discover Mexica culture during ceremony and dance classes. Open to the public.
Community Tour Leader Program Spring 2015
Every Saturday from March 2 to May 23, 2:30-5:30pm.
The Community Tour Leader Program is a docent training project that teaches local community members to become museum guides at the Peralta Hacienda Historical Park.
This Spring the Community Tour Leaders Program is divided into two sections:
The first section, Native American Hands-on History Activities, is open to the public and serves as an introduction to the second section of the program.
The second section, The Native American Story at Peralta Hacienda, is for individuals who are interested in becoming Community Tour Leaders at Peralta Hacienda Community Museum.
For more info. on the CTL program please email info@peraltahacienda.org or call (510) 532-9142
This program is possible thanks to the generous support of the Institute for Museum and Library Services.
A.C.E Summer Camp
(Art, Culture, and Enviroment)
Every Summer
Come and join us every summer for seven weeks of fun and educational activities.
Joins us this summer for 6 weeks of fun! From July 6th to August 14, Monday to Friday 10 am to 2pm
This program is possible thanks to The San Francisco Foundation.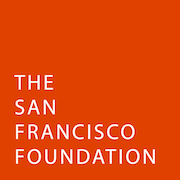 Home and Away
Spring 2015
California's prison population went up by 500% between 1882 and 2000. Peralta Hacienda's next exhibit and story collection initiative 'Home and Away,' to begin this spring, will explore the effect of mass incarceration in our community. Please contact Linda Norton if you would like to participate by sharing your story or helping in any way: lindanorton@earthlink.net. We need your input, if you have any experiences to share. The Creative Work Fund funded this effort, collaboration between writer Norton, Peralta Hacienda staff, and community members to create a book and the exhibit. We are seeking matching funding. - Literary artist Linda Norton, be in Residence on Fridays starting in April to speak to community.
Click here for more info about Linda Norton and her work!
This project is possible thanks to the generous support of the Creative Work Fund.
The Athena Project
Every Spring
ENGAGE: Athena Project brings students from the California College of the Arts (CCA) to Peralta Hacienda each spring. CCA faculty member Virginia Jardim founded the program four years ago to mentor local youth in the arts and give art students the experience of working in the Fruitvale community.